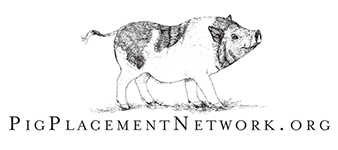 7 Piglets - Lachlan and Moira - pig for adoption in Jamison, PA
Additional Photos

1
Adoption pending
7 Piglets - Lachlan and Moira
12/13/2019 Update: Lachlan and Moira are still available for adoption.
5/12/2019 UPDATED 7/2/19- Meet the piglets! We have 7 babies here at the farm now. We have Duncan Lachlan Hamish Angus Moira and Aila. There are a few others and you can meet them all at the farm. These guys all 12 were saved from the sale house in MD. They were the result of someone having pigs that were not properly spayed and neutered so they went from four pigs to 26. Now we're trying to get homes for these little sweethearts. They still have some growing to do but they have all been spayed neutered gotten all their shots microchips and are being trained. You can visit them at Ross Mill Farm during normal visiting hours (noon-3pm). If you are interested please visit our website and complete the application: https://www.pigplacementnetwork.org/online-adoption-application/
Qualified homes must 1) be in a zone friendly community 2) locate a vet that will care for pet pigs 3) own their home.