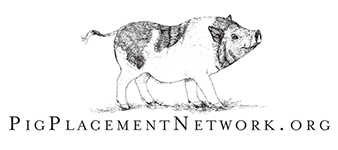 Adonna, Denzel, and Labron - pig for adoption in Jamison, PA
Additional Photos

1
Adoption pending
Adonna, Denzel, and Labron
1/10/20 - Adonna is pending adoption! Denzel & Labron still available.
10/3/2019 - These three little piggies are working on getting their feet under them. They came to us about 2 weeks ago and are getting friendlier every day Denzel is clearly the leader and the bravest of the bunch. All three are littermates. They were born in July of 2019 from a male that everyone thought was neutered... but clearly wasn't. The father Abner is also here at the farm Adonna and Labron are more timid but are warming up as they get more comfortable. All of them have been altered and had their shots and microchips - all they need are loving forever homes. You can visit them at Ross Mill Farm during normal visiting hours (noon-3pm). If you are interested please visit our website and complete the application: https://www.pigplacementnetwork.org/online-adoption-application/
Qualified homes must 1) be in a zone friendly community 2) locate a vet that will care for pet pigs 3) own their home.