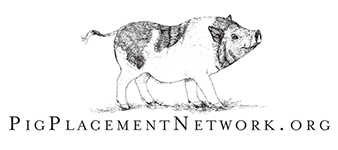 Wilma (& Betty) in Jamison, PA
Additional Photos

1
Wilma (& Betty)
Wilma and her best friend Betty are the only two pure Yucatan pigs here on the farm. They are extremely intelligent and high energy girls. However they are very loveable Wilma is the wilder one of the pair. She loves fooling around. This girl has had a litter of piglets as well. They both have very little hair. Some history of these girls they were used in a research facility but no harm was done to them. The facility closed and decided to adopt them out. Wilma's next home needs plenty of romping room and pasture for her to be able to graze. They are very active and closer to their farm pig counter parts than the pot bellies in personality. Both are large pigs.
If you are interested in Wilma and Betty please visit our website and complete the application. www.pigplacementnetwork.org
If you would like further information you may contact Patti or Susan.
Qualified homes must 1) be in a zone friendly community 2)locate a vet that will care for pet pigs 3) own their home.