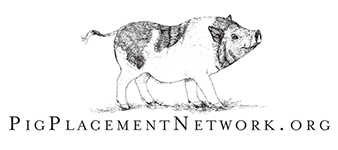 Pig Boarding & Fostering
Pig Placement Network has boarding and foster facilities located throughout the United States. Our most well-known facility is Ross Mill Farm located in Bucks County in Pennsylvania. Various facilities offer boarding (a paid service for temporary care of your pig until you can resume responsibilities) and foster care (temporary homing until a suitable permanent home is found).
Pig Placement Network relies on paid services as well as donations in order to operate. Every foster situation is expected to be accompanied by a modest donation by the surrendering pig owner. Foster homes are always scarce, so please consider all other options before you make a decision to place your pig in a foster home.
Boarding homes are usually more available because boarding is a paid service. While boarding, your pig will be worked with on socializing and general pig behavior. Specific needs can be addressed on a case-by-case basis.
For information about Boarding and Fostering, please click here and let us know what you are looking for.