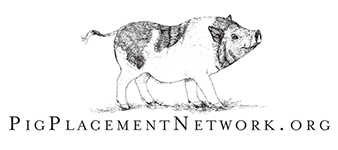 Daisy Mae (& Jenny) in Jamison, PA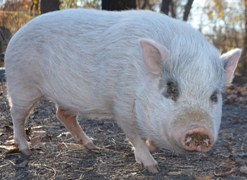 Additional Photos

1
Daisy Mae (& Jenny)
Daisy Mae (White) and Jenny (Black) are a pair of pigs who currently reside at Ross Mill Farm. After being adopted from RMF in 2011 they were returned on 09/10/2018. This was through no fault of theirs. They are a pair of spayed females. Both Daisy Mae and Jenny are friendly pigs who have many good years left. They are outdoor pigs who enjoy snuggling with each other. Both of them are getting excellent care at RMF and appear to have been well cared for throughout their lives. These 2 are used to being in a loving home. For a family who is looking to rescue a great pair of pigs these 2 could bring years of joy and companionship. Both girls are medium sized pigs.
If you are interested in adopting Daisy Mae and Jenny please visit our website and complete the application. https://www.pigplacementnetwork.org/adopt/adoption-application-page/ If you would like further information you may contact Patti or Susan.
Qualified homes must 1) be in a zone friendly community 2) locate a vet that will care for pet pigs 3) own their home.