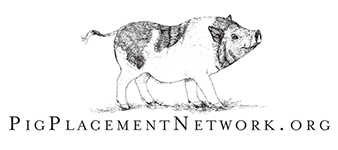 Potbelly pig information & resources
Caring for a pet pig is not as simple as one would think. There are many considerations when caring for a pig that we often take for granted with other animals. Pig Placement Network works to provide the general public with the most acceptable and compassionate practices. Our primary concern is for the welfare of the pigs that we work tirelessly to provide the best care possible. Accordingly, the articles we promote are those based on safe and tested methods. We work with veterinarians and other professionals who specialize in the care of pet pigs and have years of experience doing so. Topics include diet, behavior, health, environment, entertainment, safety, potty training, and the ever pervasive and mythical micro-mini-pocket-dandy-teacup-nano pig phenomenon.
---
WEBINAR NOTES
WEBINAR FOLLOW-UP RESOURCES
---
The PPN Library is a collection of many articles from many sources. These articles have been collated since the late 1990s, thus some of the contact information in the articles may not be accurate. We included this information in the articles as they were originally published.
This library grows with each new publication we find. Please check back to see what is new.