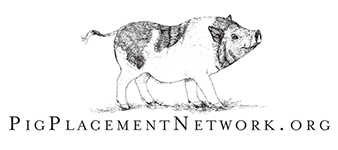 Potbelly pig information & resources
Caring for a companion pig is not as simple as one might think, as there are considerations that we often take for granted with other animals. Pig Placement Network works to find good homes for pigs in need, but pig parenting education is just as vital to our mission. It's important that adoptive homes have the resources and knowledge they need to provide their companions with proper care and a happy life. Our primary concerns are pig health, welfare, happiness, and ensuring that the pig has the guidance they need to be a positive addition to the family. We work with veterinarians and other experienced pig experts to compile accurate and truthful information.
---
---
We are actively working on updating the PPN Library. Please check back to see what new resources have been added!
Pigs aren't the right companions for everyone, but we pig people are smitten in spite of—or perhaps because of—their quirks! We want to share the love about what makes pigs so unique and special in upcoming features, so please join in and tell us what you appreciate about pigs here!
Pet Pig Basics/For New Pig Parents
Behavior and Training
Health
Podcasts
Webinar Notes
Webinar Follow-Up Resources

Zoning:
Are you zoned to have a pet pig?
How can you change zoning?