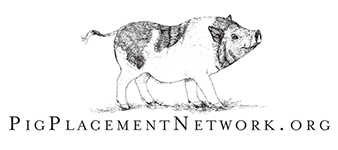 Rehome options
We know that having to give up your pig is a painful and undesirable situation. PPN has the resources available to be able to assist you with finding a new home for your pig.
PPN's placement strategy is based on a home-to-home model. That is, you will be the foster home for your pig while a forever home is found. A pig reacts poorly to multiple placements. Imagine being shuffled around from home to home without knowing when the next move will take place. Ideally, the current owner can make accommodations for their pig while a permanent home is secured. However, there are cases when emergency placement is needed. We can help you decide if placement is urgent or if there are some changes that can be made that will allow more time in your home. Perhaps there are even some changes that can be made that will allow you to be the forever home!
We can help you rehome your pig in these ways:
PPN can provide you with information and resources that may allow you to keep your pig or make accommodations in your home until suitable placement is found.
PPN can list your pig on the PPN Adoptable Pigs page and our map.
PPN can review potential adopters and contact leads that would be a good fit for your pig.
PPN can provide you with zoning information.
PPN strongly encourages each pig owner to make a reasonable attempt to make accommodations for their pig. The majority of cases can be resolved with moderate changes in the home.
Steps in the Rehoming Process
Fill out the Pig Info Form
The Info Form is received and reviewed by our Rehome Coordinator
The Rehome Coordinator posts the pig on the PPN website and sends you an email with your pig's link
If you find a home for your pig or decide to keep them, please email the Rehome Coordinator so we can remove them from the website
If we receive an application for your pig, we will contact the applicant to schedule a review. We always recommend asking anyone who contacts you about your pig to fill out the adoption application and go through the review
The Adoption Coordinator will reach out to you to let you know about any pre-qualified applicants interested in adopting your pig or supply the applicant with a letter showing they've been qualified. If someone says they've been pre-qualified, please contact the Adoption Coordinator or Rehome Coordinator to confirm
We require pigs to be altered. If your pig is currently unaltered, the adopter needs to have a vet willing to spay/neuter and they must make arrangements for that to be completed as soon as possible after adoption. Please read The Importance of Spaying & Neutering.
Generally speaking, we do not allow rehome fees for Home-to-Home placements, except in specific circumstances such as a rescue situation. PPN does not allow breeders to use our website to sell pigs. We do thoroughly encourage you to take advantage of our rehoming process by following the above steps to ensure homes are properly reviewed.
---
Rehome form