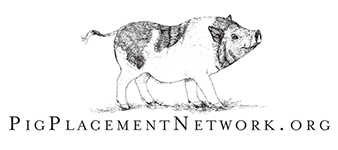 Pig Boarding
Pig Placement Network's primary and most well-known boarding facility is Ross Mill Farm, located in Bucks County in Pennsylvania. Ross Mill Farm offers boarding, a paid service for temporary care of your pig.
While boarding, your pig can be worked with on socializing and general pig behavior. Specific needs can be addressed on a case-by-case basis.
For information about Boarding, please click here to read more about boarding at Ross Mill Farm.