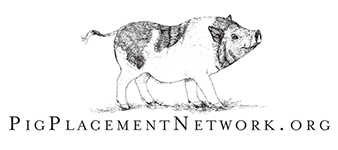 About PPN
Pig Placement Network is an adoption service for Pet Pigs. We strive to bring together potbellied pigs and people in order to improve and enrich the lives of not only deserving pets, but their new owners as well.
Mission
To promote domesticated pigs as pets. To provide education to pet pig owners, veterinarians, shelters and the general public. To work with animal shelters, humane societies, and pet pig owners to rescue unwanted, abused, or abandoned pet pigs and place them into new, loving homes.
Company Overview
We are a non-profit organization that is dedicated and devoted to potbellied pigs.
Board of Directors
Events