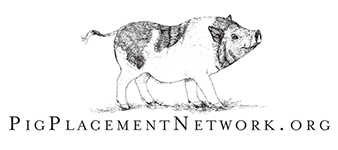 Volunteer
Ways to help us
Nation-Wide Networkers- We are looking for people to develop a nation-wide network to promote awareness as well as find suitable homes for needy pet pigs.
Foster Homes- Pig Placement Network is always looking for qualified foster homes to socialize and foster pigs. This process is usually only one month and makes such a difference. Placing a well behaved pig is much easier!
Ross Mill Farm- Ross Mill Farm, Pig Placement Network's primary foster home, is always looking for volunteers to care for the 100+ pigs in its care. Duties range from general farmhand tasks to light construction to general care of the pigs.
NJ, PA, VA area- Pig Placement Network attends many events throughout the year in order to raise awareness and funds. We look for outgoing and energetic people who can attend these (with or without a pig) in order to promote the pig as a household pet.
Watchpig- We find many needy pigs on Craigslist, SPCA sites, Humane Society, Petfinder and other resources. If you are interested in helping us find pigs, this is the position for you.
If you have any special skills or desires that are not listed here, please indicate that when you submit your volunteer form.
Contact us if you're interested in volunteering