Curly Tail Coffee's Petunia Roast
Pig Placement Network has teamed up with Curly Tail Coffee to offer you a chance to purchase a bag of coffee inspired by Petunia the Potbellied Pig. Each 12 ounce bag costs $11.00, and $1.00 is donated to Pig Placement Network!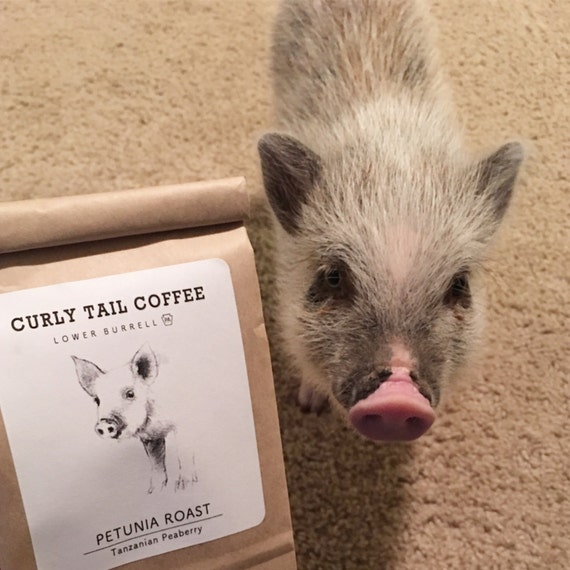 Product Description: Curly Tail Coffee is a small batch coffee roaster located in Lower Burrell, PA. Each 12oz bag of coffee is roasted on a made-to-order basis so that ultimate freshness is guaranteed.
The Petunia Roast is made from Peaberry coffee beans grown in Tanzania, primarily in the highlands of Mt. Kilimanjaro. The Peaberry portion of the name refers to the shape of the coffee bean. Typically a coffee bean will split into two halves as it grows, however about 10% do not, and instead form a single, rounded bean resembling a pea. The shape is very unique just like our Juliana mini pig Petunia! When brewed, The Petunia Roast produces a very flavorful and intense cup of coffee. It is also considered one of the most aromatic coffees available.
Your purchase is benefiting Pig Placement Network. $1 from each bag will be donated to this rescue. www.pigplacementnetwork.org
Please visit Curly Tail Coffee's Etsy page to make your purchase!