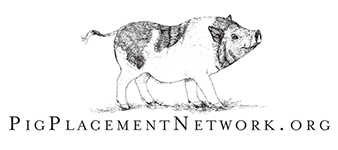 Forrest - pig for adoption in Jamison, PA
Additional Photos

6
Forrest
12/05/2019 - Update - Forrest is still here at Ross Mill Farm and his estimated DOB is May 2018. 08/22/2018-Forrest is a 12 week old neutered male. He arrived at Ross Mill Farm with the rest of his siblings on July 13 2018. He was one of a large group of unwanted piglets that were surrendered that day. He has since had his vet work updated and he has been neutered. Forrest is a lively piglet who is being well socialized by the staff at Ross Mill Farm. Piglets like Forest require a large time commitment. They are not happy being left alone for very long and they require lots of attention and interaction. For the family that has learned that a piglet is right for them, Forrest could bring over 20 years of joy and companionship.
If you are interested in adopting, please visit our website and complete the application: https://www.pigplacementnetwork.org/adopt/adoption-application-page/
Qualified homes must 1) be in a zone friendly community, 2) locate a vet that will care for pet pigs, 3) own their home.