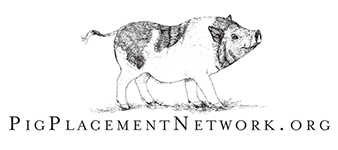 Hazel Marie in Jamison, PA
Additional Photos

6
Hazel Marie
Hazel Marie is a spayed female. She is currently in need of a new forever home. Right now Hazel resides at Ross Mill Farm. Hazel Marie is a young pig in the prime of her life. She enjoys snuggling in her blankets with her companion, Cassie. Hazel would probably do best in a new home with a more experienced pig owner. Her new family should be comfortable employing a few behavior management techniques. She is ok being around other animals, and she likes her pen mate. Hazel Marie knows tricks like sit and kisses. Also she is in good physical condition, at a medium size. She needs a responsible new family to keep her that way. Hazel is a good hearted pig who could provide years of joy and companionship to the right new home.
If you are interested in adopting, please visit our website and complete the application: https://www.pigplacementnetwork.org/adopt/adoption-application-page/
Qualified homes must 1) be in a zone friendly community, 2) locate a vet that will care for pet pigs, 3) own their home.