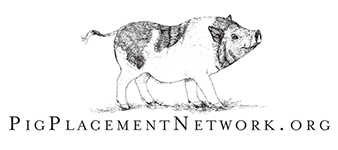 Ike - pig for adoption in Jamison, PA
Additional Photos

3
Adoption pending
Ike
UPDATE 10/8/19 - Iris was adopted, Ike is still available! 9/25/2019 - Ike and Iris were born 7/19/2019. They're a little over 2 months old now and have gone in to get spayed and neutered. They will be in quarantine for another few weeks but once they're all up to date on their shots recover from their spay/neuter and are happily socialized they'll be up for adoption These two are really very sweet. They were given up because they kept escaping from an unfenced yard. Their owner said they weren't friendly but they both happily go down for belly rubs. Just keep an eye on who you start with because Iris really prefers to lay on top of Ike for those.
If you are interested in adopting, please visit our website and complete the application: https://www.pigplacementnetwork.org/adopt/adoption-application-page/
Qualified homes must 1) be in a zone friendly community, 2) locate a vet that will care for pet pigs, 3) own their home.