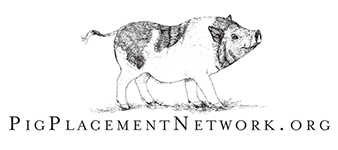 Tot (& Tater) in Jamison, PA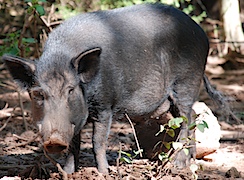 Additional Photos

1
Tot (& Tater)
Tot and Tater are litter mates. They have been together since they were born 8/23/09. They have both been at Ross Mill since October '09. This pair is very energetic and slightly timid as they are Florida ferals. They have a very distinctive look to them as well. Outdoor room to roam is necessary for these two. They have both been neutered and are up to date on their shots and worming. All of our feral pigs are on the larger side.
If you are interested in Tot and Tater please visit our website and complete the application. www.pigplacementnetwork.org
If you would like further information you may contact Patti or Susan. Qualified homes must 1) be in a zone friendly community 2)locate a vet that will care for pet pigs 3) own their home.