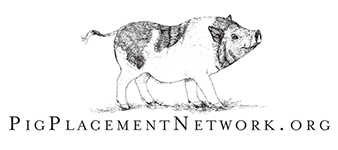 Trenton - pig for adoption in Jamison, PA
Additional Photos

5
Trenton
Trenton's first visit to Ross Mill Farm was in 2013 as a boarder here for vet work and grooming. He recently became a permanent resident until placement due to biting issues. He was very spoiled in his home and left alone often. This slowly resulted in him becoming aggressive with visitors. Unfortunately this behavior was never rectified and has now resulted in him being aggressive with everyone. We are hopeful given enough time and proper discipline Trenton will learn not to be fearful of humans.
A new development since his arrival in January is we can now get Trenton down for belly rubs by moving very slow and cautiously. He enjoys his belly rubs very much once down for one Trenton will need to be adopted by experienced pig parents who will continue proper care. He is a medium sized pig.
If you are interested in Trenton please visit our website and complete the application. www.pigplacementnetwork.org
If you would like further information you may contact Patti and Susan. Qualified homes must 1) be in a zone friendly community 2)locate a vet that will care for pet pigs 3) own their home.