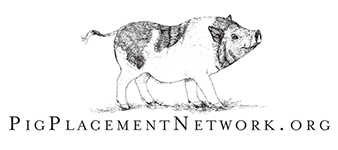 Wendell P. Chop in Jamison, PA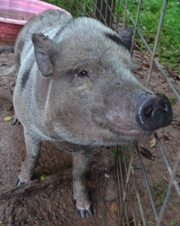 Additional Photos

1
Wendell P. Chop
Wendell is a 6 year old spayed female. She is currently available for adoption through Ross Mill Farm. Wendell was surrendered because she was not getting along with some of the people in her home. She bonded strongly to her owner but did not have the same positive relationship with everyone. Wendell is a pig in the prime of her life. She enjoys getting scratched behind her ears and laying out on nice days. Wendell is an outdoor pig. Pigs who live outside do best in pairs. This means she could make a great partner for another outside pig. RMF offers introduction services for helping your pig to bond with Wendell. Wendell appears to be in good physical condition. All pigs at RMF are kept current on their vet work. Wendell is looking for a new home with a person she can really get close to. She does have some issues with acting out, but for the right new home she could bring years of joy and companionship.
If you are interested in adopting Wendell please visit our website and complete the application. https://www.pigplacementnetwork.org/adopt/adoption-application-page/
If you would like further information you may contact Patti or Susan.
Qualified homes must 1) be in a zone friendly community 2) locate a vet that will care for pet pigs 3) own their home.