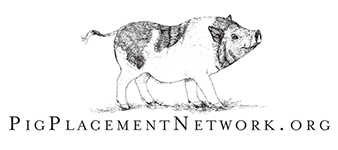 Willow - pig for adoption in Jamison, PA
Additional Photos

1
Adoption pending
Willow
Willow was born 9/21/2008 and has been at Ross Mill Farm since August 2013. Since arriving she has become bonded with one of our longterm boarders Smokey. When Smokey is finally able to go home is it hopeful they will be able to take Willow as well, but this could be years down the road. She is an extremely sweet girl and knows several tricks including holding a basket on her nose and waving with her hoof. She rarely requires any medical attention. Willow spends most of her days roaming the grounds and only coming back when it's dinner time. During feeding Willow will rest her head on your leg and when you don't pay attention to her she will push on your leg with her face. This is done in a very cute and friendly manner.
If you are interested in Willow please visit our website and complete the application. www.pigplacementnetwork.org
If you would like further information you may contact Patti or Stephanie. Qualified homes must 1) be in a zone friendly community 2)locate a vet that will care for pet pigs 3) own their home.