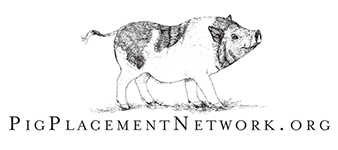 Rescue User Program - Code of Conduct
PPN Rescue Users agree to:
Make arrangements, prior to adoption, for intact pigs to be spayed or neutered.
Make placements in municipalities that have pig friendly zoning ordinances.
Place piglets after 2 months old whenever possible.
Educate qualified new homes; Provide information, support, and resources; Offer Pre Adoption and Post Adoption Support.
Remain available to take the pig back if the adoption fails whenever possible.
Keep their posts current.